Regular price
$549.00 USD
Regular price
Sale price
$549.00 USD
Unit price
per
Sale
Sold out
9 Square Castle Squares is an indoor/outdoor volleyball 9 square game that is fun for all ages.

15'x15' strong metal frame designed for a 3-5 minute set up
Telescoping legs make the height fully adjustable for all skill levels and sizes. Adjusts to three different heights: 

 5

'4", 7'4" and 7'11".

Durable straps ensure that this game will entertain you and your guests for years to come.  Green, 

Yellow and Pink Straps glow under 

blacklight!
One 9 Square Ball included
Everything fits in one convenient carrying bag (included), making it super portable
Replacement Parts available
Aluminum is lightweight and easy to bring anywhere you go. Both the mill-finished and anodized aluminum sets are water-resistant and can be played in pools, lakes, or on beaches.
Patent Pending, Made in America
Share
View full details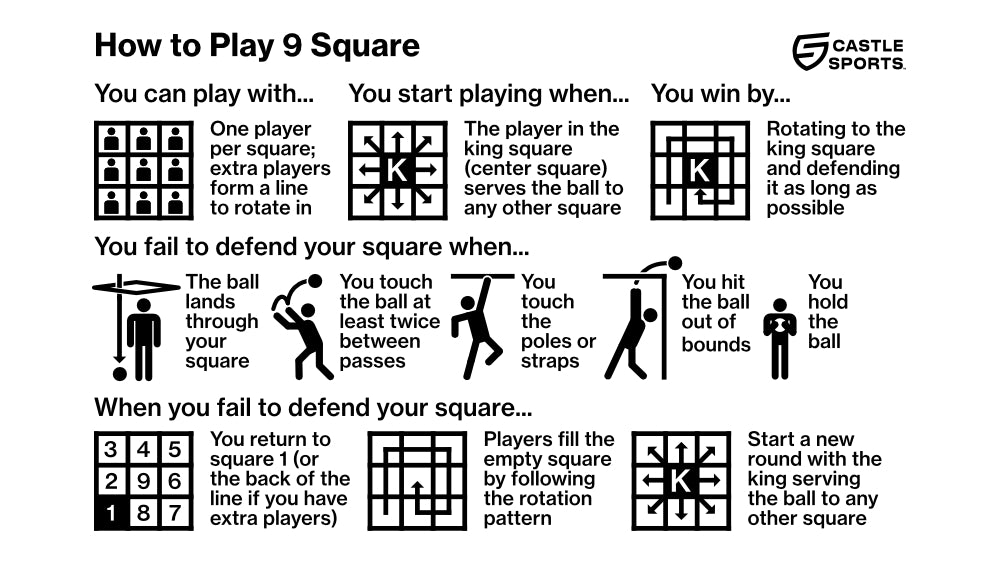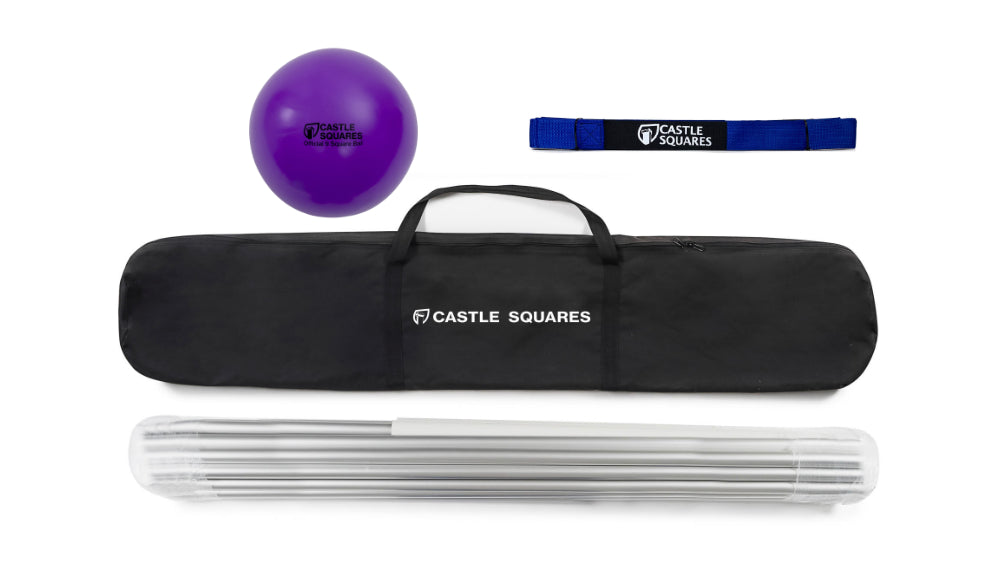 How does Castle Squares compare?
Nine square is the perfect game for all event gatherings. There are simple rules and plenty of room for creativity. Nine square is currently one of the most popular games on the market and is perfect for family fun.   
Nine square is a game similar to four square, where the goal is to get to the center square in the 3x3 grid. 
 Nine square is a fun game for all ages. It is a twist on the classic school-grounds game "four square." In the game four square, four people stand in a drawn box. A player can step out of the square, though it puts the person at a disadvantage to leave their area. They can touch the ball with any part of their body (head, foot, hip, hand). The goal of the game is to advance to the King or Queen center square. If the ball hits a square and the person inside that square can't hit the ball into another person's square, that person is out of the game. Once a player is "out," they must either leave to stand in the waiting line or move to the lowest square.  
Nine square is similar to four square, but the court is lifted off the ground, making it a portable game rather than a stationary game. The rules of the game are similar to the four squares' rules, except the ball isn't allowed to touch the ground. If the ball touches the ground, the person in that square is out. The ball is hit inside a person's square over their head. They can use their hands, head, or feet to hit the ball into another square. The person in that square must hit it back up through their square and into another square. If the ball touches the ground or the ball is hit out of the court, that person is out. The goal of the game is to make it to the king or queen's center square. 
Who Can Play 9 Square?    
Anyone can play nine square.
Nine square is an inclusive game. Students, adults, kids, teenagers, and seniors can all come together to enjoy the game. Best of all, the game can be easily modified to fit the needs of those playing. The game is meant to be an easy, portable way for game-lovers to get outside and have fun while exercising. 
Here are five groups of people who love playing nine square: 
1. Students 
Nine square is a simple game that can be played in the schoolyard. As the game grows more and more popular, many schools consider adding it to their recess games. Schools can use it as a fun way for students to exercise during their PE period. Even college-age students are adding nine square to their list of fun weekend games.
2. Adults  
Adults love the game nine-square. The game is a fun adaptation of the beloved childhood game foursquare that many adults grew up playing foursquare on their playgrounds. Nine square makes the classic game portable and adds a unique twist. Nine square also lets more people join in the game, making it the perfect game for parties and picnics.
3. Kids  
The nine square court is adjustable, meaning that the poles can be adjusted to fit any height. If children are looking to play the game, the supervising adult can adjust the court to fit the needed height. Kids love the game nine square because it is inventive. Rules are just as adjustable as the court itself, meaning that it leaves plenty of room for imagination. Simply set it up in your yard and let the kids play.
4. Teenagers
The design of the game makes it perfect for teenagers. Nine square is active, meaning that teenagers will be able to socialize while getting exercise. Additionally, the game requires some skill level, making it a fun game to learn for teenagers. This is the perfect game for a youth group setting, parties, or just in the backyard. 
5. Seniors  
Last but certainly not least, seniors love to play nine square. The game can be incredibly active, or more simple, depending on who's in the court. Players can taper back the competitiveness of the game and welcome in their grandparents. Grandparents can enjoy nine square since there is limited movement and no impact. If the players use a light ball (such as a beachball), it becomes even easier for older members of the family to join in the fun. 
Where Can You Play 9 Square?  
Nine Square can be played anywhere. 
To play nine square, all you need is the court and a ball. Because the game is so easy to set up, it can be played anywhere. Many people love playing nine square at the beach, in their home, at church functions, or even at a hotel. There is no required location or function for nine square. It is an incredibly inclusive game meant for everyone.  
The game is both an indoor game and an outdoor game. Here are some examples of indoor places you can play nine square: 
Inside a large room 

On an indoor soccer field 

On an indoor basketball court 

In a lobby area  

In a classroom
Although you can set up nine square anywhere, it's important to be respectful of your surroundings. Don't set up your game of nine square in a location without the property owner's permission. For example, you wouldn't want to set up your nine square game next to the hotel's front desk. However, you could set up a game of nine square in a large lobby area with granted permission during a party. Setting up the game in outdoor locations is much easier. Some of the best outdoor locations for the game include: 
At the park 

Any grassy area 

In your church parking lot 

In your backyard 

In your front yard 

At the beach  

On a camping trip 
Setting up the game outdoors is easy. Because of the portable game structure, players can easily carry the court from one location to another. All you need to play the game is a floor and some space. 
When Can You Play 9 Square? 
Now! Nine square is available online at castlesports.com. 
Nine square is the perfect game for parties, family reunions, and festivals. It can be casual, competitive, or relaxed, depending on who's in the court. Nine Square is available to buy anywhere in the nation. Families, schools, youth groups, and parties can use nine square as an easy way to exercise and have fun. Nine Square is currently available at Castle Sports. 
Choosing a selection results in a full page refresh.
Opens in a new window.